By Megan - 01/05/2023
As we get deeper into the winter months, the cold and flu season is in full swing. If you have young kids in daycare, preschool or grade school, it's not uncommon for them to come home with a case of the sniffles. Although it's not always convenient to stay home with sick kids, there are ways to make the best of sick days with little ones.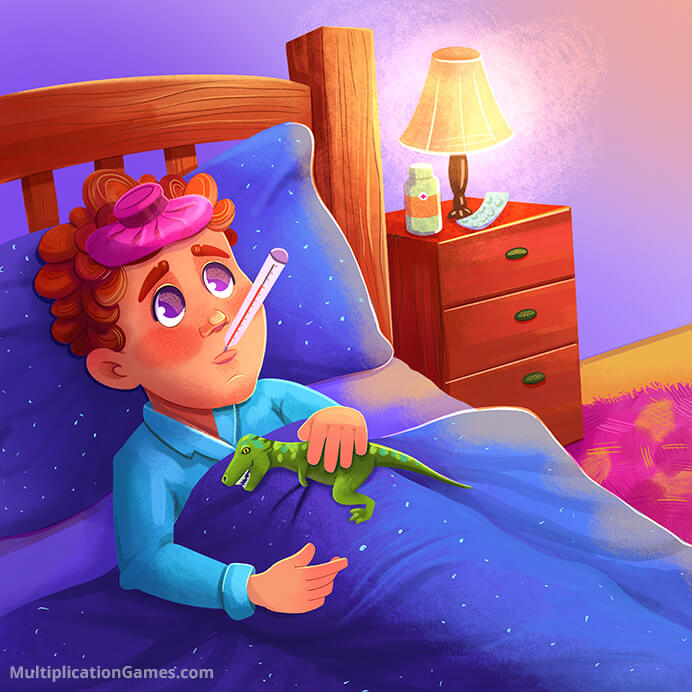 This article will cover ten sick day activities for kids to help pass the time and ease their minds during the healing process. Keep reading to learn helpful tips to make the most of your time at home.
1. Build a Fort
Nearly all kids enjoy building forts, especially if they can hang out in them for hours, watching movies and reading books. If you know your child needs much-needed rest, motivate them to get cozy in a fort you build together. Once you have built the fort, add all their favorite pillows, blankets and stuffed animals for a personalized touch. Parents can let their children use a laptop or tablet to watch a movie. If you are a parent that needs to work from home, build the fort in your office so that your little one can still rest nearby.
2. Make a Family Photo Album
Family photo albums are a great way to hold on to memories while teaching kids about their family tree and experiences during childhood. If you have a box of old family photos, spend your kid's sick day making a photo album that you can hold on to for years. You can explain different stories your child may not remember as you go through photos. Consider letting them hold on to the album in their bedroom after you finish. This simple yet heartfelt activity is a great way to bring a smile to your little one's face.
3. Coloring Books
Most families have coloring books in their homes, making them a great resource for unexpected sick days. If your child is sick, consider picking up a coloring book based on one of their favorite movies or TV shows. As they color in the pages, you can watch it on the TV together as a family. Make sure to hang up their completed masterpieces to shed a bit of positivity on their sick days.
4. Play Card Games
Card games are a great way to pass the time, and they can even be played in bed if your kid doesn't have the energy to get up. Games like Go Fish and War are simple enough for young kids and can also be a great bonding activity for parents. Make some comforting sick-day snacks and spend a few hours playing card games for a blue light-free afternoon.
5. Read a Collection of Short Stories
If you have time to cuddle up with your little one in bed, consider reading through a collection of short stories together. Most parents have books they've always wanted to read to their children, but they may be a bit long for a daily night routine. When an unexpected sick day arises, think of this as your opportunity to pull that book off the shelf. Short stories are a great way to introduce your kid to new authors, writing styles and themes while strengthening their vocabulary.
6. Multiplication games
Multiplication games are a productive way for your kids to use their time at home to brush up on some skills. We have a variety of free multiplication games on our website that take kids through virtual worlds and storylines. Math games are suitable for kids of all ages, whether they are just learning multiplication or getting into complex equations. If your child needs to keep practicing on their day off, set them up with some math games in bed.
7. Puzzle Books
Puzzle books are another great way to keep your child's mind sharp while they are relaxing. If you don't already have some, you can pick them up at affordable prices at the local corner store. It's a great resource to have on hand if you need to keep your child entertained on the go. They also work great for entertaining little ones in doctors' offices or waiting rooms.
8. Watch Home Videos
If you have a lot of old home videos, consider going through them together while their energy is low on a sick day. As children grow up, they easily forget all the special memories they shared with their parents and siblings years ago. Play home videos on your laptop or television and watch them together as a family. This is a great activity to do if some or all of your kids have to stay home from school due to feeling under the weather.
9. Have a Movie-Themed Lunch Date
If you have more time on your hands, you can prepare a movie-themed lunch date for your sick little ones. Pick out one of their favorite movies and consider dressing up similarly to one of the characters. If you have a board game that corresponds with the movie, this is a great time to pull that out.
Cook a meal that is based on the movie and name it after a theme from the storyline. Even if you don't have a lot of resources on hand, you could get creative with this to convince your child that you had it all planned out for them!
10. Get Ahead on Weekly Assignments
Depending on how sick your child is, they may not be up for completing school work. However, if they only have a minor cold, consider getting your kid ahead on their schoolwork while they have the opportunity. Although they may resist doing anything on their day off, staying on top of assignments can help reduce stress throughout the rest of the week.
If your child has an unexpected sick day, we hope some of these activities inspire you to make the most of the day at home. Don't forget to explore our wide variety of free multiplication games online today! They are a great resource to help your child stay on top of skills while getting back on their feet.